VanchromeClear-Regular
Vanchrome família consistindo de 14 fontes
Acentos (parcial)
Acentos (completo)
Euro
vanchrome clear.ttf
-->
Tags
Nota do autor
Vanchrome is a compact sans-serif headliner with chromatic layers. Create a layer in your design application, copy the layer, change the style, change the colors. Some applications such as Photoshop might need manual vertical alignment so cross-hair in the ◊ character position has been included. Due to the way Vanchromes bevel shading is designed, the Left and Right bevels should be placed under the Up and Down bevels. For a classic chrome effect, try the following order: Back, Front, Horizon, Ground, Sky, Left, Right, Up, Down, Grid (optional), Edge, Sparkle. Manually offset the back style to make a drop shadow. The Clear layer is designed to be used on its own or layered between Back and Sparkle layers. Greek and Cyrillic alphabets are included.
If you'd like separate color layers, you can get them at Typodermic Fonts.
The desktop license for Vanchrome Clear is free. If you'd like to embed this font in an app, ebook, on the web or anything that's not covered by the desktop license agreement, visit the link below. You'll find distributors who offer different types of licenses or you can contact me for help.
Please read the FAQ on the front page of Typodermic Fonts and don't be afraid to ask questions if you're not sure.
http://typodermicfonts.com/vanchrome
Mapa de caracteres
Porfavor use o menu suspenso para ver os diferentes mapas de caracteres contidos nesta fonte.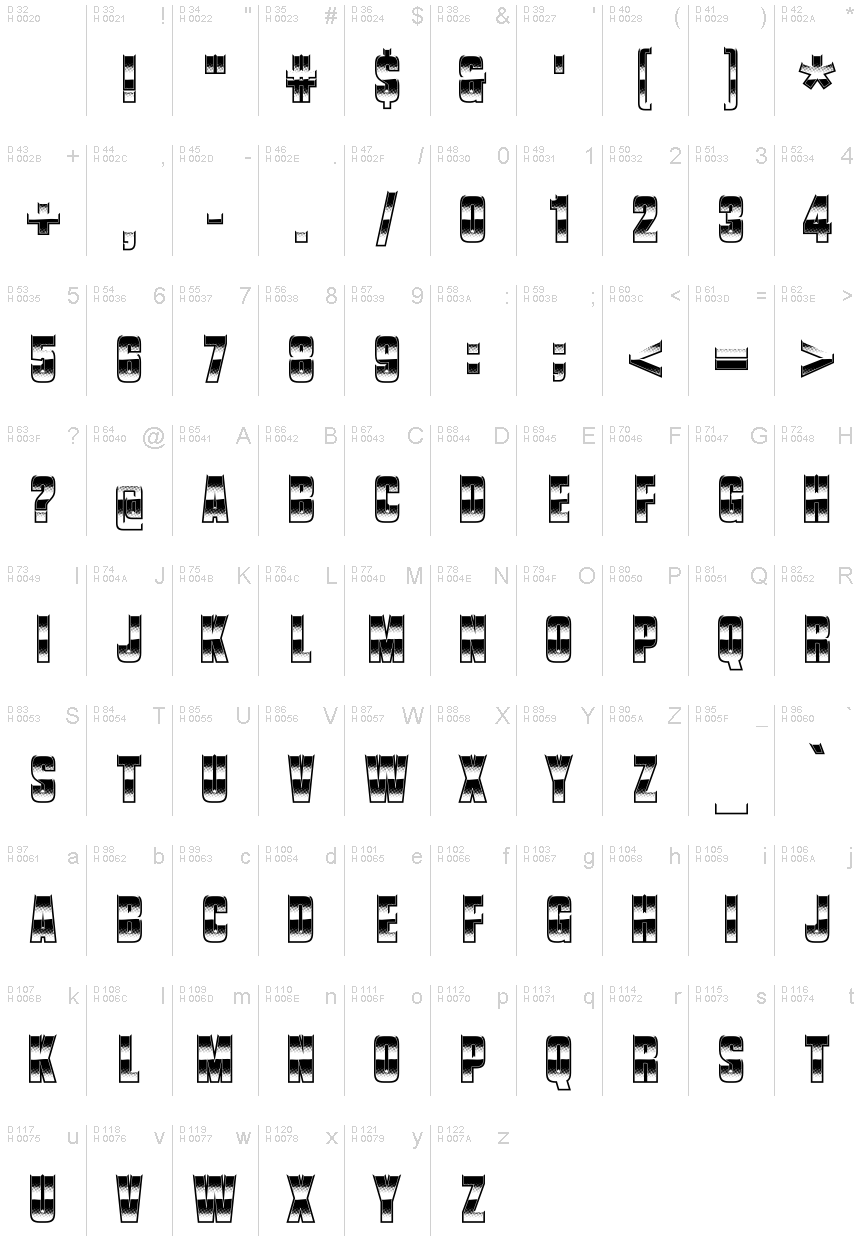 Informaçőes de fontes básicas
Nota de direitos autorais
(c) 2017 Typodermic Fonts Inc.
Identificação única da subfamília
1.000;TYPO;VanchromeClear-Regular
Versão da tabela de nomes
Nome da fonte do postscript
Vanchrome is a trademark of Typodermic Fonts Inc,.
Informações da fonte estendida
Plataformas suportadas
PlataformaCodificaçăo
Unicode
Unicode 2.0 e semântica em diante, Unicode BMP só.
Detalhes da fonte
Direitos de Incorporaçăo
Incorporação para visualização e impressão permitida
Classe da família
Sem classificaçăo
Endereço
Apenas glifos fortemente da esqueda para a direita + neutros
Afastamento
Năo monoespaçado
Pacote completo contém 14 cargas de fonte listadas abaixo:
vanchrome clear.ttf
vanchrome grid.otf
vanchrome front.otf
vanchrome back.otf
vanchrome sparkle.otf
vanchrome left.otf
vanchrome up.otf
vanchrome right.otf
vanchrome edge.otf
vanchrome horizon.otf
vanchrome down.otf
vanchrome sky.otf
vanchrome ground.otf
vanchrome outline.otf