Tiny Angels
Tiny Angels família consistindo de 2 fontes
-->
Tags
Nota do autor
Tiny Angels, designed by Darrell Flood, is a bold, wide display font perfect for creating eye-catching posters and logos with a cartoon-style flair. It's suited for projects like greeting cards, comic books and more!
This font is free to use for personal use (tho I appreciate donations!)
Please give as much as you honestly feel the font is worth to you.
For commercial use you must pay $20 (USD) via PayPal to me at:
dadiomouse@gmail.com
My preferred method of payment is via PayPal (because it ensures I get the full amount)
*but*
if PayPal is not an option for you, or you prefer to pay by card, then please pay via the following link:
https://f2u.page.link/uL7i
Thank you for downloading this font and I hope you find a use for it!
-----
Tiny Angels V1.0
Commercial use license is a once off payment that applies to the buyer or the company they represent...
for an unlimited number of installs/seats/projects, worldwide, in perpetuity.
-----
Please Note:
Reselling of the font files is NOT permitted.
Reformatting of the font files for resale (or free redistribution) is NOT permitted.
Examples:
Resale in font bundles (without my explicit permission) is NOT permitted.
Converting the fonts into other formats - such as (but not limited to) .png, .svg, .gif etc...
where the end product is essentially "reselling" the font in a different format is NOT permitted.
Mapa de caracteres
Porfavor use o menu suspenso para ver os diferentes mapas de caracteres contidos nesta fonte.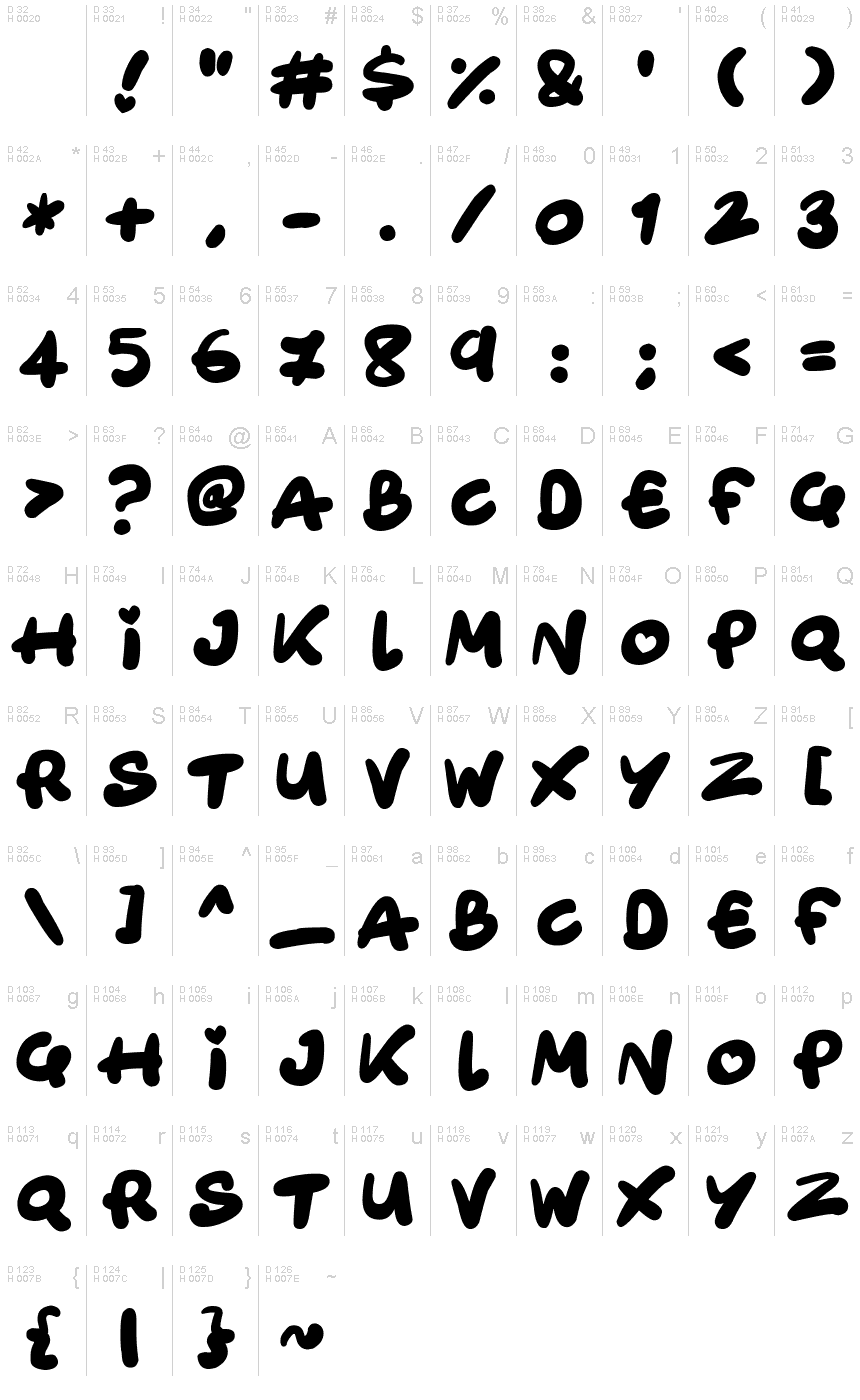 Informaçőes de fontes básicas
Identificação única da subfamília
Versão da tabela de nomes
Version 1.00;January 31, 2023;FontCreator 12.0.0.2567 64-bit
Nome da fonte do postscript
Informações da fonte estendida
Plataformas suportadas
PlataformaCodificaçăo
Unicode
Unicode 2.0 e semântica em diante, Unicode BMP só.
Detalhes da fonte
Direitos de Incorporaçăo
Incorporação de edição permitida
Classe da família
Sem classificaçăo
Endereço
Apenas glifos fortemente da esqueda para a direita + neutros
Afastamento
Năo monoespaçado
Pacote completo contém 2 cargas de fonte listadas abaixo:
Tiny Angels.ttf
Tiny Angels Italic.ttf