tijuf-Regular
-->
Tags
Nota do autor
Unleash the playful spirit of your projects with Tijuf, an extra-bold display font crafted by the imaginative minds at twinletter. With its cartoon-style flair and creative contours, Tijuf is a font that doesn't just spell words—it brings them to life. Its whimsical charm is perfect for injecting a burst of joy into any design, from children's books to animated movie titles and eye-catching logos.
Tijuf's robust and exuberant characters are designed to stand out. They invite designers and creatives alike to explore a world where typography becomes as expressive as art itself. Whether you're crafting social media graphics or sprucing up packaging designs, Tijuf offers versatility while maintaining its distinctive personality.
Step into a realm where typeface meets imagination—Tijuf is your go-to choice for making a bold statement that's both delightful and unforgettable.
Terms Of Use
By downloading or using our font, you are read and accepted to the Our Term and Use Agreement :
This font is copyrighted and protected by the law. Usage of this font on any work without a proper license is deemed illegal. You might get fined at least USD 3000 for this act. Please do understand that we have our own system for tracking the usage of our works on the internet.
1. This font is Demo ONLY, FOR PERSONAL USE NO COMMERCIAL USE ALLOWED
2. Click this link to purchase on our website :
https://twinletter.com/product/tijuf/
- Any donations are acceptable and very appreciated. PayPal account for donation:
https://paypal.me/abahrozi
Don't forget to follow our social media for updates:
Instagram: twinletter
Facebook: Twinletter
Twitter: @twinletter
Mapa de caracteres
Porfavor use o menu suspenso para ver os diferentes mapas de caracteres contidos nesta fonte.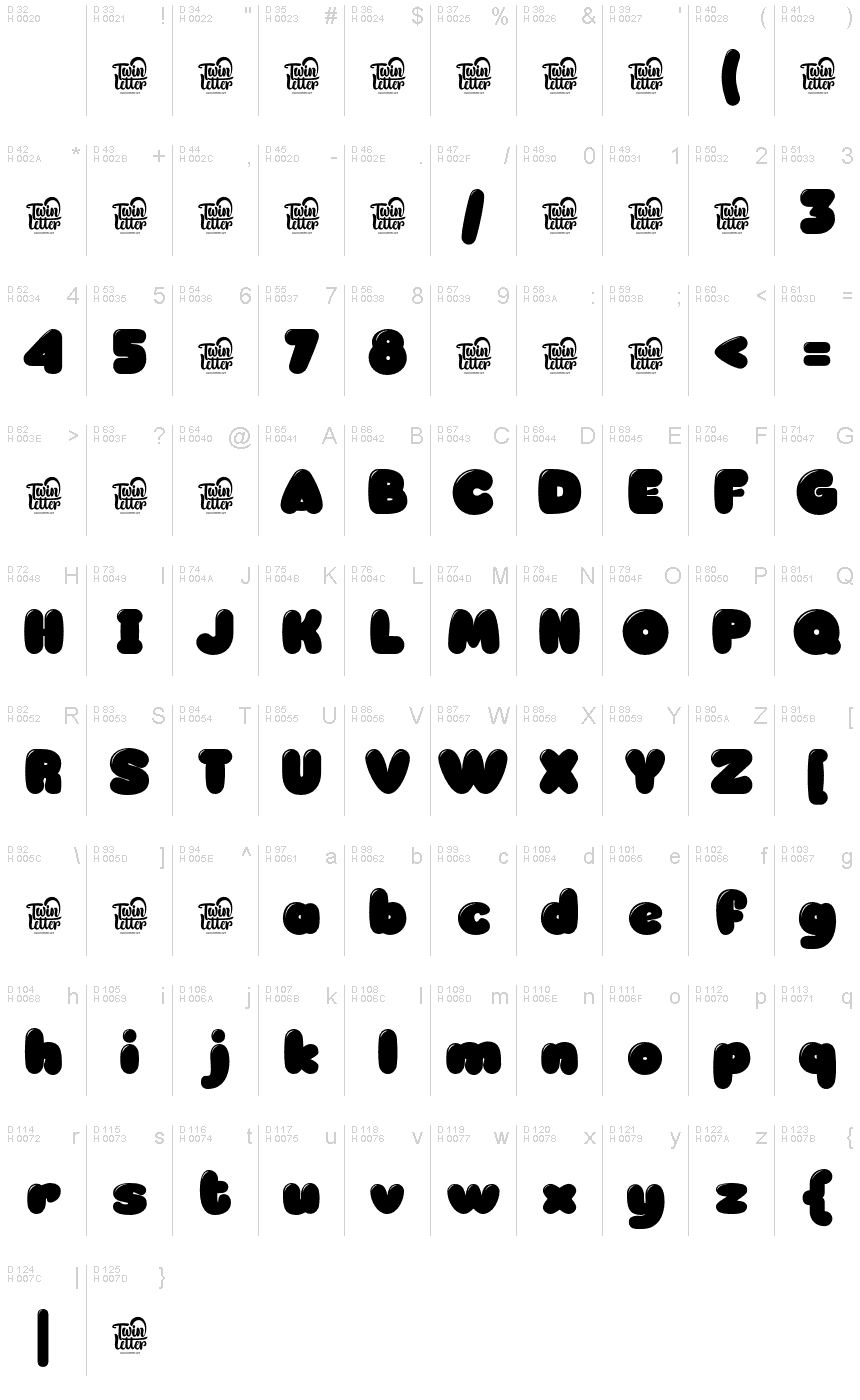 Informaçőes de fontes básicas
Identificação única da subfamília
Version 1.000;PYRS;tijuf-Regular;2022;FL720
Versão da tabela de nomes
Nome da fonte do postscript
Informações da fonte estendida
Plataformas suportadas
PlataformaCodificaçăo
Unicode
Unicode 2.0 e semântica em diante, Unicode BMP só.
Detalhes da fonte
Direitos de Incorporaçăo
Incorporação restrita (não é permitida!)
Classe da família
Sem classificaçăo
Endereço
Apenas glifos fortemente da esqueda para a direita + neutros