Glastona
-->
Tags
Nota do autor
Glastona, the exquisite calligraphy font by Staircase Studio, adds a touch of elegance to any project. Its graceful strokes and varied widths make it perfect for wedding invitations, greeting cards, and other formal occasions. But don't let its refined appearance fool you - Glastona can also lend a playful vibe to children's book covers or whimsical product packaging. With its timeless appeal and versatile style, Glastona is the go-to font for designers looking to add sophistication and charm to their work.
This font is copyrighted and protected by the law. Usage of this font on any work without proper license is deemed as illegal. You might get fined for at least USD 3000 for this act. Please do understand that we have our own system for tracking the usage of our works on internet.
By downloading or using our font, you are read and accept to the Our Term and Use Agreement :
- Our free demo is ONLY for NON COMMERCIAL USE or PERSONAL USE ONLY
- Click the link below to purchase full version :
https://staircaselab.com/product/glastona/
-You may not Capture screen shots, record video, record audio and copy text from products to use as press material, without permission from our company.
- For Corporate or Commercial use you have to purchase Corporate and commercial license, please contact us at :
staircasestudio20@gmail.com
Follow our social media for update :
Twitter : @staircaselab
Instagram : staircaselab_studio
Facebook : Staircaselab
Mapa de caracteres
Porfavor use o menu suspenso para ver os diferentes mapas de caracteres contidos nesta fonte.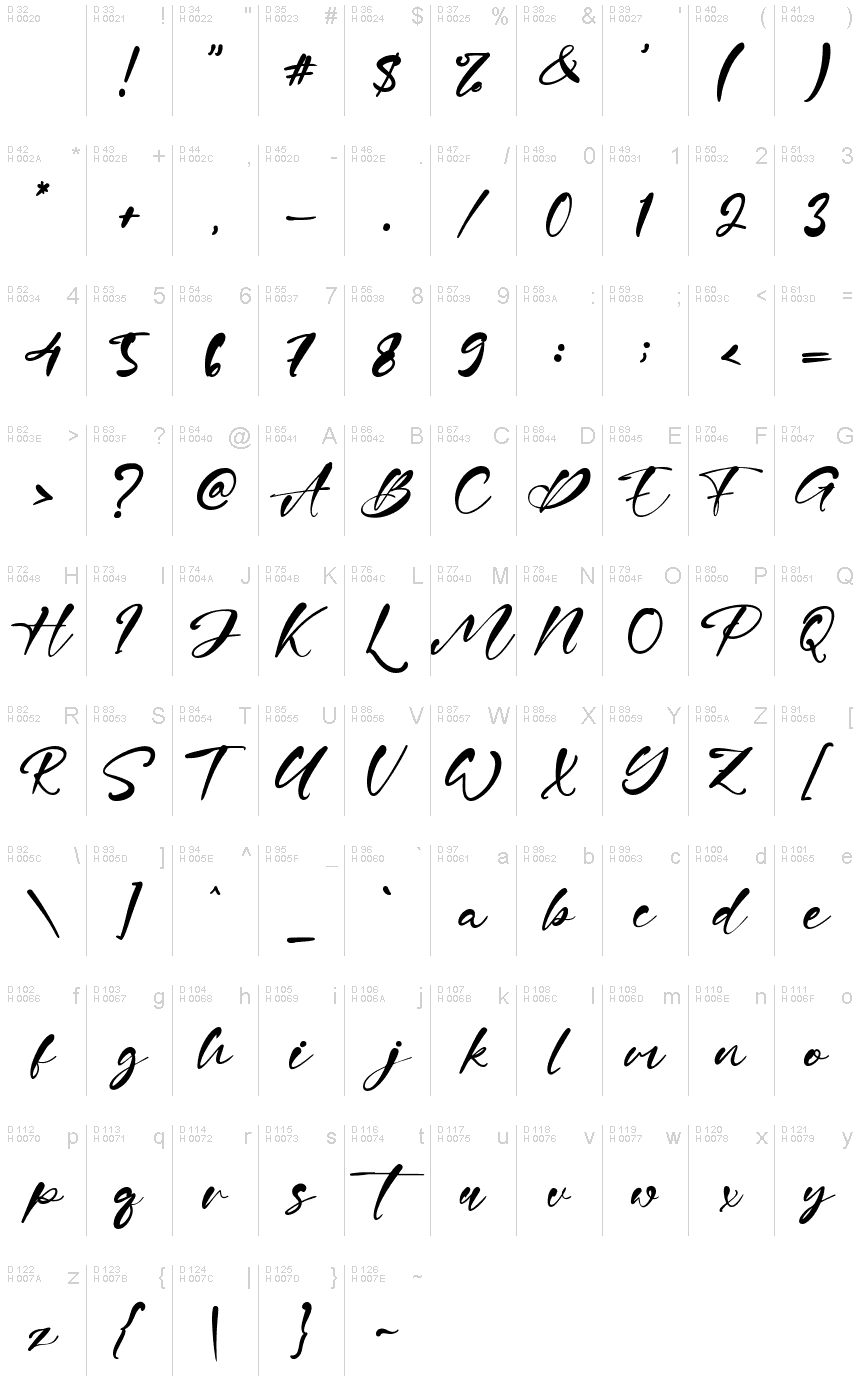 Informaçőes de fontes básicas
Identificação única da subfamília
Version 1.00;December 28, 2021;FontCreator 12.0.0.2563 64-bit;HL;Glastona;2021;FL720
Versão da tabela de nomes
Version 1.00;December 28, 2021;FontCreator 12.0.0.2563 64-bit
Nome da fonte do postscript
Glastona is a trademark of Staircase Studio.(staircasestudio20@gmail.com)
Copyright (c) 2021 by Staircase Studio.(staircasestudio20@gmail.com)
Informações da fonte estendida
Plataformas suportadas
PlataformaCodificaçăo
Unicode
Unicode 2.0 e semântica em diante, Unicode BMP só.
Detalhes da fonte
Direitos de Incorporaçăo
Incorporação para instalação permanente
Endereço
Apenas glifos fortemente da esquerda para a direita
Afastamento
Năo monoespaçado